Why give to Sones de México Ensemble?
Here are just three examples of programs that your generosity supports.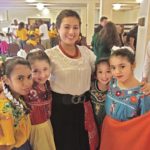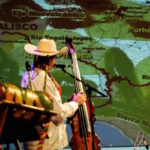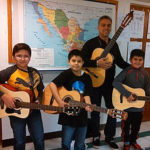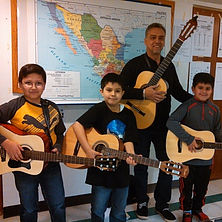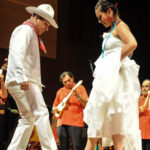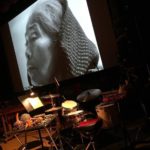 Outreach: Serving the needs of thousands.
In 2016, we brought music and dance outreach programs (workshops, teacher development, parent nights, and assembly performances) to schools in several cities. While the schools pay for services received, our donors cover the development of these programs and help us to maintain their high quality. We also serve adults with our free lecture and demonstration program Beyond the Music: A Musical Geography of Mexico that presented 20 performances in libraries, cultural centers,  concert halls and more in 10 different states across America. This program is sponsored in part by a grant from the National Endowment for the Arts, but in order to take this program across the country to the people who need it most, we require matching funding and evidence of community support from people like you.
Education: Toward our own music school.
Music lessons are a gift for a lifetime. Learning to play music is not just about acquiring a technical skill, it is also about immersing yourself in a culture, discovering its meaning, and expressing yourself. We have launched a music school with the belief that music and the culture where it comes from can be taught together and made accessible to all. We started 2016 with 12 young students enrolled in a single guitar class in Chicago's South Side Pilsen neighborhood. We grew to 36 students in three classes in April. For the summer and fall sessions, we added classes for North Side residents in the Rogers Park neighborhood. Tuition for 12 weeks of lessons and our guitar book (which students keep) is $150. They can also rent a guitar for $25 if they don't have one. Families who cannot afford the cost of tuition receive scholarships funded by donations from people like you.
Innovation: Tradition meets creativity.
Can a traditional music band be innovative? Our history of cross-cultural projects has fused Mexican son with many genres and traditions. Each collaboration has brought attention to the unique type of music we play and has fostered a greater understanding of Mexico itself. In 2015, we introduced a new project: Creating and performing an original live score to the 1932 silent film classic ¡Que Viva Mexico! by cinema pioneer Sergei Eisenstein. More screenings followed, including a stunning free performance at the Navy Pier IMAX Theatre in May of 2016. Now there is interest in our project from international film festivals in the U.S. and Latin America. In order to bring the project to an international audience, we need to develop a promotional trailer and a traveling production. Individual donations allow us to invest in opportunities such as these.
..
Any great enterprise needs supporters. As we strive for greatness, we are counting on you to help us get there.
¡Muchas gracias!
Here are some examples of how your donation can help with even our most basic operation and program expenses:
will cover the cost of a 30-page textbook we developed for our guitar students.
covers the cost of a one-hour rehearsal for the band (we rehearse at least 3 hours every week).
covers the cost of one hour of music instruction.
covers the cost of a half-scholarship for a student in our school.
covers the daily rental cost of a van to transport the band to other states.
covers the cost of 12 weeks of music lessons for a student in our school.
pays for a month's rent on our storage facility where we keep our sound system and musical instrument collection.
covers the cost of a day of workshops at a school serving over a hundred students.
If you prefer to donate by check, please mail it to:
Sones de México Ensemble
PO Box 13261
Chicago, IL 60613
Call (773) 728-1164 for other options.
Sones de México Ensemble is a 501(c)3 not-for-profit organization with a mission to promote a greater appreciation of Mexican traditional music through world-class performance and education programs. All donations are tax deductible to the fullest extent allowed by law.
Tax Receipts are Available. If you already made a donation and would like a tax receipt acknowledging  your gift, let us know.