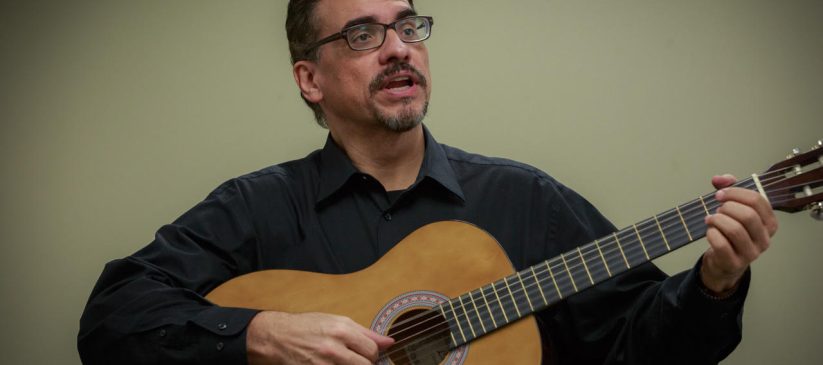 Introducing "¡Canta! Radio Recuerdos": Online Singalong Club for Spanish-Speaking Seniors presented by AgeGuide and Sounds Good Choir featuring two-time Grammy nominated Juan Díes of Sones de México Ensemble
AgeGuide and Sounds Good Choir are excited to announce the launch of a new, engaging online singalong program for Spanish-speaking seniors in DuPage, Grundy, Kane, Kankakee, Kendall, Lake, McHenry, Will and Cook Counties. Titled "¡Canta! Radio Recuerdos," this free membership club offers a unique opportunity for seniors over 60 to connect, reminisce, and enjoy the joy of singing from the comfort of their home.
Led by the singer and guitarist Juan Díes, co-founder of the two-time Grammy-nominated Sones de México Ensemble, and hosted by program assistant Alfredo Hernández, "¡Canta! Radio Recuerdos" invites eligible seniors to join in on the musical festivities via Zoom. This virtual singalong club is a celebration of Latin music classics from Mexico and other Latin American countries.

Program Highlights:
Twice-a-month online singalong club via Zoom.
Singalong classics in Spanish from Mexico and other Latin American countries
No cost for participation – open to eligible seniors in the specified Illinois Counties
Different musical themes featuring rancheras, boleros, baladas, tropicales, rock and roll, and more.
Archived video of the last session available for viewing on demand.

Schedule (see below for a calendar listing of featured themes)
Regular Singalong Club:
First and third Thursday of the month
11:00 AM to 12:00 PM
Memory Care Singalong:
Tailored for seniors with memory loss
Follows the regular singalong club, starting at 12:00 PM
Caretakers are welcome to join
Benefits of Singing for Spanish-speaking Seniors:
Singing offers a multitude of benefits to Spanish-speaking seniors, including:
Physical Health: singing promotes good breathing and lung function, good posture and cardiovascular health.
Mental Health: remembering song lyrics promotes mental acuity, Spanish language retention, a sense of belongingness, dopamine release, and overall emotional well-being.
Cultural Connections: songs connected to their roots foster a sense of identity and belonging. Songs from their youth can evoke memories of the past and provide a channel for reminiscing about life experiences, traditions, and upbringing.
Storytelling: Singing can be a form of storytelling, allowing Spanish-speaking seniors to share their life stories, cultural traditions, and experiences through the songs they sing.
Social Interaction: Singalong groups encourage interaction and camaraderie among immigrant seniors who share similar cultural backgrounds, helping to build friendships and a sense of community, reducing stress, and enhance overall mood.
Empowerment: Immigrant seniors might experience a sense of empowerment and pride when sharing their heritage through singing, enhancing their overall self-esteem.
Benefits of Singing for Spanish-Speaking Seniors with Memory Loss:
For seniors with memory loss participating in the 12:00 PM singalong session, singing provides additional benefits, such as:
Stimulation: Singing engages various parts of the brain, stimulating cognitive functions and enhancing mental alertness, even in individuals with advanced stages of dementia.
Memory Recall: Even when memory and cognitive abilities are impaired, music and singing can trigger memories from the past, allowing individuals to engage in conversations and reminisce about their lives.
Improvement in Mood: Music and singing release endorphins and trigger positive emotions, leading to improved mood and reduced feelings of anxiety, paranoia, sadness, or depression.
Personal Identity: Music and songs from an individual's past can help maintain a sense of personal identity and self, even as other aspects of memory may decline.
Communication: Singing can become a mode of communication when verbal abilities are limited. It provides an alternative way for individuals to express themselves and connect with others.
Promotion of Routine: Incorporating regular singing sessions into a daily routine can provide a sense of structure and familiarity, helping individuals feel more comfortable.
Enriching Caregiver-Client Interactions: Caregivers can use singing as a tool to connect with individuals with dementia, making caregiving tasks more enjoyable and meaningful.

How to Register:
To participate in "¡Canta! Radio Recuerdos," eligible seniors can register for free by visiting: https://ageguide.org/spanish-language-sing-alongs-for-older-adults/. Once registered, participants will have access to all scheduled sessions for the season.
Join us in celebrating the power of music and the joy of singing with "¡Canta! Radio Recuerdos." For more information visit [Program Website].
Calendar of Featured Themes for 2023
August 03: Program Pilot: Let's All Sing! —Today we launch a new online series. Join our Spanish-language sing along club, led by singer Juan Díes, a two-time GRAMMY™ Award nominee and co-founder of Sones de Mexico Ensemble and hosted by Mexican producer Alfredo Hernández. Log-in and come sing with us on the first and third Thursday of the month. Each time the team will bring you a different musical theme to explore the vast and diverse Latin American songbook.
August 17: Ranchera Music — During the "golden age of Mexican cinema" (1936-1956) emerged a genre of country music that became known as the "ranchero" style, and represented the quintessence of Mexican identity. "Ranchera" music was popularized by singers such as Lucha Reyes, Tito Guizar, Jorge Negrete, Pedro Infante, Antonio Aguilar, Cuco Sánchez, José Alfredo Jiménez, Javier Solis, and Vicente Fernández, who were also actors in those classic films.
September 07: The Rock and Roll Years —
Rock and roll with its leather jackets and greased hair, and young girls in calf skirts and ponytails in stories about youth gangs dancing to rock and roll came to Mexico in the mid-1950s through the American films of James Dean and the music of Elvis Presley. Soon, artists such as Enrique Guzmán y Los Teen Tops, Los Locos del Ritmo, Los Rockin Devils, Los Hooligans, Johnny Laboriel y Los Rebeldes de Rock, Julissa, Angélica Maria, and César Costa emerged in Mexico's pop music scene. Let's sing together some of the covers and original hits of Mexican rock and roll!
September 21: A Trip Through Latin America—Latin America comprises 21 Spanish speaking countries that have produced beautiful music, including music from Cuba, Puerto Rico, Peru, Chile, Argentina, Colombia, Ecuador and Venezuela that were hits all over the world. Some people also include Brazil and the Spanish-speaking U.S. Let us refresh our geography lessons and sing our way through the Americas.
October 05: The Songs of José Alfredo Jimenez—José Alfredo Jiménez (1926-1973) is one of the most recognized and prolific composers and singers of Mexican "ranchera" song, having written more than 1,000 songs in his short life. His greatest hits are ingrained the collective consciousness of the Spanish-speaking world throughout. These include El Rey, Ella, Un Mundo Raro, No Me Amenaces, Paloma Querida, and La Media Vuelta. Let us sing these classic country "torch" songs together as we remember this musician giant.
October 19: The music of Cri-Cri, The Little Singing Cricket—Today we are going to sing music written for children by one of México's iconic classic composers. Francisco Gabilondo Soler (1907-1990), also known as "Cri-Cri: The Little Singing Cricket," was a witty Mexican composer, violinist, jazz pianist, storyteller, boxer, swimmer, bullfighter, and radio personality on XEW Radio for 28 years (1934-1962). Many of us grew up singing his songs El Ratón Vaquero, Negrito Sandia, La Muñeca Fea, La Patita. Revive your inner child and join us in this fun sing along.
November 02: Tropical Music—In Mexico we call "tropical music" an endless swath of Afro-Caribbean musical styles that came and stayed in Mexico, including cumbia, cha-cha, rumba, guaracha, merengue, guajiras, bolero, danzón and more. It's hard to sing these songs without wanting to dance too. In our singing club dancing is also allowed! Let's sing and dance to the sound of Maria Isabel, Se Va el Caiman, Los Marcianos, El Bodeguero, Guantanamera, Besame Mucho, Compadre Pedro Juan, La Pollera Colorá and more.
November 16: Corridos—Corridos have been one of the most popular and enduring Mexican music styles for over 175 years. Some of the earliest corridos like La Delgadina date back to the 19th Century and corrido artists like Los Tigres del Norte and Peso Pluma keep selling out stadiums today. Why are corridos so popular? It's all about the lyrics! They often tell true stories of things that happen to regular people in extraordinary circumstances, and whether they live or die in the end, their lives are memorialized in song. Let's sing and explore these stories together. Juan Charrasqueado, Valente Quintero, Benjamin Argumedo, Camelia la Tejana, La Cucaracha, etc.
December 07: Boleros that became hits in USA—Boleros originated as a dance style in Cuba. In the 1930s they arrived in Mexico and were turned into romantic ballads by composers like Agustín Lara and popularized in the 1940s and 1950s by trios such as Los Panchos, Los Diamantes, Los Caballeros and Los Tres Ases. Some of these songs crossed over and became hits in the U.S. under different names. Many people known these songs but are unaware that they are originally Latin American songs, such as What a Difference a Day Makes (originally Cuando Vuelva a Tu Lado), It's Impossible (originally Somos Novios), You Belong to My Heart (originally Solamente un Vez), Tonight (originally Perfidia), and others. Let's sing and remember these dual national hits!
December 21: Christmas Songs—Let's finish the year singing! Singing Christmas carols is a favorite family activity throughout Latin America. We will be singing a selection of Christmas songs from various countries: El Burrito Sabanero, Las Posadas, Noche de Paz, Feliz Navidad, Los Peces en el Río, Blanca Navidad, and more. We recommend that you wear Christmas colors to help us get in the season spirit.

About Us
About AgeGuide: AgeGuide is a leading organization dedicated to promoting the well-being and quality of life for older adults through various programs and services. Website: ageguide.org
About Sounds Good Choir: Sounds Good Choir is a passionate ensemble of musicians and singers committed to creating joyful and meaningful musical experiences for seniors. They also have two weekly online Sing-Along programs in English: the Sounds Good Weekly Sing-Along and the Good Memories Sing-Along Café. For more information visit soundsgoodchoir.org.
Juan Díes is a guitarist, bass player and singer, originally from San Luis Potosí, Mexico. He is co-founder and Executive Director of the non-profit organization Sones de México Ensemble (est. 1994). He holds an M.A. in folklore/ethnomusicology from Indiana University and has devoted his professional life to presenting, researching, advocating, teaching, producing, and performing traditional music and culture.  For more information visit sonesdemexico.com/juan