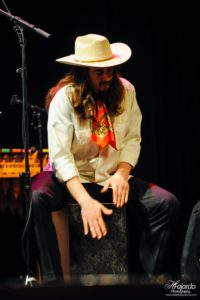 -Dr. Eric Hines is a professional percussionist/educator residing in Chicago, IL. An accomplished performer of classical, jazz, Caribbean, Brazilian, Mexican, and popular percussion, Hines maintains an active international touring schedule. As a bandleader, Eric appears regularly in the Chicago music scene directing his steel pan driven Caribbean jazz ensemble Eric Hines & Pan Dulce. Hines is also the drummer/percussionist for Sones de México, a two time GRAMMY nominated Mexican folk music ensemble. Specializing in Cuban folkloric music, Eric has studied in Havana and Matanzas with master rumba musicians Maximino Duquesne Martinez, Francisco "Minini" Zamora Chirino, Los Muñequitos de Matanzas, and Los Rumberos de Cuba. His dissertation Recipe for a Guaguancó Sabroso: Understanding Quinto Improvisation in Cuban Rumba was published in 2015.
An in demand clinician of concert, marching, and world percussion, Hines has presented at the Library of Congress, International Percussion Festival in San Juan, Puerto Rico, PAS Days of Percussion (Texas, Arizona, & Louisiana), Olivet Nazarene University Day of Percussion, TMEA Clinic/Convention, Utah Valley University, McNeese State University, UT Austin Longhorn Music Camp, UT Brownsville, South East Texas Marching Percussion Camp, and many summer percussion programs. His performance and recording credits include work with Too Hot to Handel Jazz Orchestra, Rubén Alvarez's Trio Tropicál, Honey & the 45's, The Socials, LoBros, Orquesta Congrí, Tucson Latin All-Stars, Grupo Manteca, EnClave, Gabriel Ayala Quintet, Los Esquineros Sospechosos, The John Einweck Latin Jazz Quartet, Descarga, Tito y su Nuevo Son, Combo Unico, Sol Down, Rahe, The Southern Arizona Symphony Orchestra, The Valley Symphony Orchestra, Champaign-Urbana Symphony, SPIpan, The Bongodogs, and I-pan. Eric has performed internationally throughout Puerto Rico, China, England, Scotland, Belgium, France, Canada, and Mexico.
In Chicago, Eric serves on the faculty of Ravinia's acclaimed Jazz Mentors program, while also working as a core faculty member of The People's Music School, where he directs Wind Ensemble while teaching Applied Percussion and Music Theory. From 2017–18, Dr. Hines was Professor of Percussion (Adjunct) at Olivet Nazarene University in Bourbonnais, IL, where he taught Applied Percussion while co-directing Percussion Ensemble, World Percussion Ensemble, and Marching Percussion. Hines is the former percussion instructor for the Tucson Symphony Women's Association, Tucson Academy of Music and Dance, and the Artistry Academy Music and Art. From 2008–12, Eric served as Graduate Teaching Assistant and Director of Steel Bands at the UA School of Music where he completed his DMA in Percussion Performance. From 2004–08 Hines served as Associate Director of Bands at Los Fresnos High School in south TX. He holds a DMA and MM from the University of Arizona, where he studied under Norman Weinberg, and a BME from the University of Illinois Champaign/Urbana, where he studied under William Moersch and Ricardo Flores. Eric has also studied with Kimberly Toscano (timpani), Cliff Berrien (Brazilian Percussion), and Rubén Alvarez (Timbales).
Eric Hines is a Sabian Artist, Tycoon Percussion Artist, Vic Firth Scholastic Educator, and DrumDial Artist.