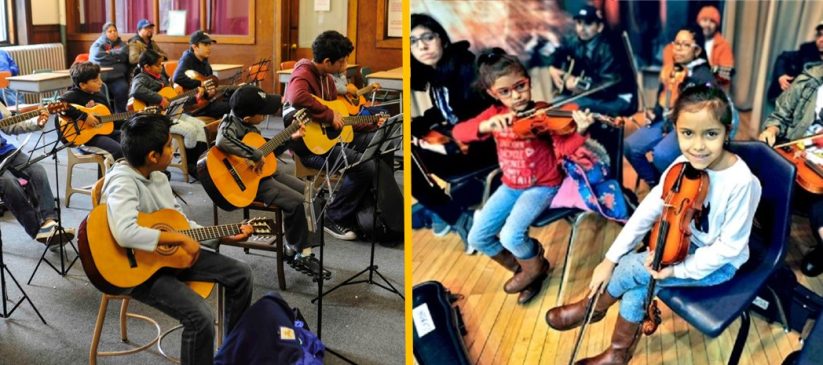 The gift of a lifetime: Learning to play music at The Mexican Music School™ by Sones de México Ensemble

mPowered by The Ralla Klepak Foundation for Education in the Performing Arts at Metropolitan Family Services—North Center
Also in Pilsen, Rogers Park and online via Zoom

Do you have a special connection to Mexican culture? Are you looking for a transformative musical and cultural experience? Look no further! The Mexican Music School™ by the two-time GRAMMY award-nominated Sones de México Ensemble proudly announces its Fall 2023 session. Located in Chicago's Belmont-Cragin neighborhood with additional locations in Pilsen and Rogers Park and World-wide distance learning on Zoom, this unique program is more than just music lessons; it's a journey into the rich cultural tapestry of Mexico and its 4,000 year-old heritage.
In this program students learn to play folk songs such as Las Mañanitas, Cielito Lindo, danzas aztecas, La Bamba, La Llorona, El Carretero on guitar or violin; they learn about the history of how Mexico was founded; what its ethnically diverse population consists of; what Mexican words derive from indigenous languages; stories and legends; where culturally significant places are located in a map; what are the various musical styles from Mexico; who are the master musicians that represent each style; and universal principles of music theory and reading that can be applied to any musical style beyond Mexico.
The impact of this innovative program was recently documented in an article by researcher Joseph Maurer, PhD, Massachusetts Institute of Technology[1] and an internal report by the Department of Evaluation and Outcomes at Metropolitan Family Services (MFS)[2] The findings include metrics evaluating growth in the following areas:

Ten Benefits of Studying Mexican Music and Culture at Metropolitan Family Services:
Cultural Preservation: In an era of globalization, the preservation of local and ethnic cultures becomes increasingly important. A curriculum that covers Mexican history, geography, and culture while mastering musical skills helps students gain a deeper understanding and appreciation of their own culture and feel more connected to their roots.
Community Building: Music has the power to bring people together, irrespective of age or background. This multi-generational group class fosters a sense of belonging and mutual support by bringing together individuals within the community to interact, and form bonds.
Parental Transformation: Parents, grandparents and siblings play a critical role in shaping a child's worldview, including their cultural identity. Maurer discusses the transformative power of music in family dynamics and cultural contexts. By encouraging their involvement in the program, either actively (offering family discounts to sign up for the class) or passively (through encouraging the children's participation at home), the entire family unit is impacted. Involved parents find themselves more invested in their own cultural background and more motivated to impart this heritage to their children.
Educational Enrichment: Music education offers cognitive benefits (improved memory, attention and spatial-temporal skills). Structured music education including the development of reading music, understanding musical theory, and mastering an instrument—all skills that require focus, discipline, hand-eye coordination, and logical reasoning. These skills are transferrable to academic settings, potentially leading to improved academic performance for student participants.
Structured Skill Development: Learning a musical instrument provides students with a tangible skill that can be both a personal hobby and a potential career path. A quality curriculum developed by professional musicians consisting of five, 12-week courses in Spanish maximizes learning and brings students from zero to intermediate level in both music and cultural skills. Regular evaluation and learning to critique each other's work helps students track progress and identify areas for improvement.
Exposure and Recognition: A culminating end of course recital and performance opportunities with other students gives students a sense of achievement that further motivates them in music and other areas of their lives.
Spanish-Language Skills: Language is not just a tool for communication but also a gateway to understanding a culture. All classes are conducted in Spanish and feature Spanish-language songs. This helps students enhance their ability to engage with Spanish-speaking communities and enrich their cultural understanding.
Musical, Physical, and Motor Skills: Through musical instrument training, students enhance their physical and motor abilities such as fine motor skills and hand-eye coordination.
Social Skills and Teamwork: Group classes and ensemble playing encourage interaction among students. They gain practical experience in collaboration, interpersonal communication, social skills, and teamwork. These are essential competencies, transferable to many other areas of life in their academic and career success.
Cultural Impact: Students in the MFS program reported an increased interest in Mexican folk music and art. Maurer's article suggests that such programs can have a profound effect on not just the students but also their families and community, fostering a deeper cultural connection.
[1] Maurer, Joseph. 2023. "'Now We're Actually Playing Music': Sones and Parental Transformation in Mexican Chicago" Ethnomusicology 67(2): 243-274
[2] Rodriguez, Caroline. 2023 "Sones Program FY23 Spring Classes Outcomes Report," produced by the Department of Evaluation and Outcomes at Metropolitan Family Services (MFS)

Anecdotes and Testimonials:
"One of our Chicago-based students takes weekly online guitar classes with her grandfather who lives in Zacatecas, Mexico. The program has not only improved their musical skills but also strengthened their family bond across borders." (Juan Díes, co-founder, Sones de México Ensemble)
Maurer's interviews reveal one parent stating, "This program has brought our family closer. It's like we've rediscovered our roots" (Joseph Maurer, PhD, ethnomusicologist, Massachusetts Institute of Technology).


Program Information:
Who:                  The Mexican Music School by Sones de Mexico Ensemble
What:                Mexican guitar and violin group classes, taught in Spanish (ages 9 to adult), Levels 1-5.
When:                12-weeks beginning September 23, 2023 and ending on December 18, 2023.
Where:              Choice of 4 Chicago locations: Belmont-Cragin, Pilsen, Rogers Park, or Zoom.
Registration:    online registration, rates, times, locations at https://sonesdemexico.com/school
Program Details:
Affordable and Accessible: Tuition-based but affordable, with financing and scholarship options.
Discounts: Early Bird discounts available. Register by September 10 and save! Family discounts for joint registrations by two or more people from the same family.
Family-Friendly: Family groups looking to bond through music and culture are welcome. Auto-discount for siblings, parents, grandparents, cousins, aunts and uncles registering together. Adults without children are also welcome to register in a family environment.
In-Person, Online and On-Demand: In-person group classes on Saturdays in 3 locations. Online classes on Sundays for those unable to attend in person, including students from other states and abroad. Classes also recorded and available on-demand for one week.
Musical instruments: Students need to bring their own musical instrument. For those interested in purchasing an instrument, the program offers quality, affordable options with a buy-back guarantee.
What to Expect: In Level 1, students learn how to hold and tune their instrument and how to play their first 6 songs. They also learn about the history and geography of Mexico.
SEASON SPECIAL: This fall, students will also learn Christmas and holiday music culminating in a Mexican posada with a singalong and a potluck for the whole family.
The Ralla Klepak Scholarship Fund: Legacy and Vision
Accessibility is a core-value. No one will be turned down due to inability to pay. mPowered by The Ralla Klepak Foundation for Education in the Performing Arts, the Metropolitan Family Services (MFS) music program honors the legacy of Ralla Klepak and offers financing options, full and partial scholarships for families in need. All students and families participating in The Mexican Music School are also eligible to take advantage of other programs and services available at the MFS North Center.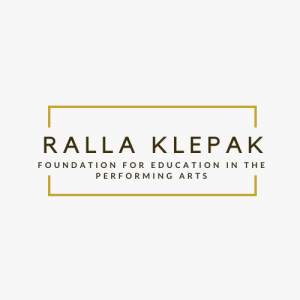 Ralla Klepak (1936-2019) was a performing arts enthusiast, an educator, and a fierce advocate on behalf of disadvantaged youth and individuals with disabilities. She was a lawyer for more than 55 years and an advocate for the LGBTQ community and dedicated her career to defending the most vulnerable. Upon her passing The Ralla Klepak Foundation was established to fund programs that support her vision and her legacy for years to come.
Contact/More Info:
For questions about the class and registration, or to apply for support form The Ralla Klepak Scholarship Fund call or text Juan Dies at (773) 354-7663 or email education@sonesdemexico.com.
Don't miss this opportunity to enrich your life and that of your family through this unique program. Register today!