SONES DE MÉXICO ENSEMBLE OUTREACH PROGRAMS
A suite of educational offerings built from the culture, heritage and history of Mexico.

School Residencies

Workshops
Donate Today

Assemblies Performances
Check our Events

Lectures and Demos
Past Shows

Teacher In Service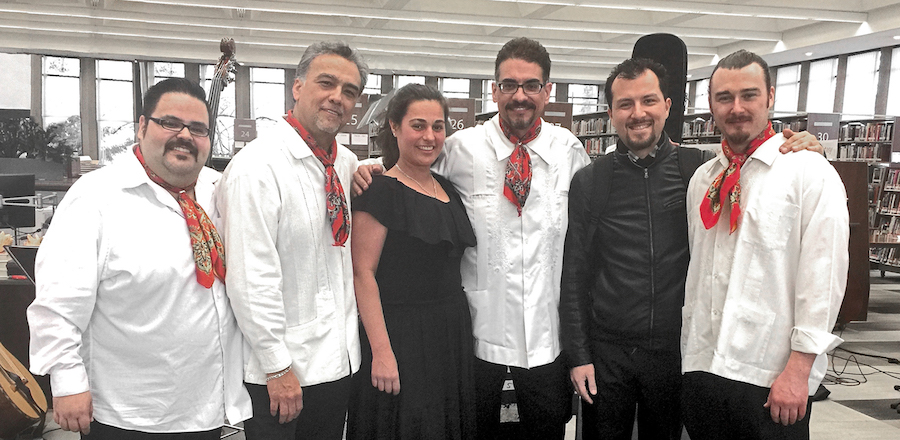 College Courses
Past Shows
Explore our programs below
Fiesta Mexicana Family Program
Beyond the Music: A Musical Geography of Mexico
La Danza Del Sol (The Dance of the Sun)
Mexican Repertoire for Orchestras Workshop
Fiesta Mexicana is an interactive concert for kids and their parents based on our Parents' Choice Award-winning CD of the same name. We'll embark on a journey through Mexican music and the magic world that surrounds it through song, stories and narration.
Beyond the Music is a lively lecture/demo presentation that combines music with a multi-media cultural history of Mexican regions to better understand the origins of the various musical styles as well as their significance to the diverse peoples that make up Mexico.
This hands-on Aztec dance workshop for children is led by Ensemble member Lorena Iñiguez. The ritual has been performed by the Aztecs in Mexico since pre-Columbian times and represents their view of the cosmos. Children learn about this culture as they learn the dance.
This workshop is scaled to its participant bands and orchestras at all levels from elementary school through college. It is designed to work with school band directors who wish to expose their students to the repertoire and style in any of several Mexican music traditions.
Master Class Mexican Folkloric Dance Workshop
Mexican Drumming and Percussion Workshop
This master class is aimed at existing dance groups or dance schools who are looking to develop specialized skills in Mexican dance: developing new choreographies, brushing up on foot tapping techniques, improvisation, or preparing an upcoming presentation.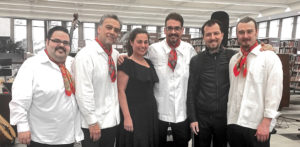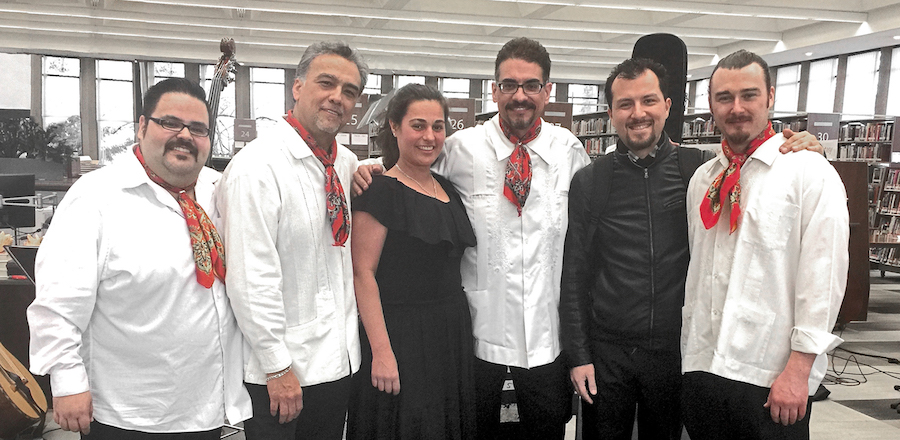 Sones de México Ensemble unfolds a world of experience for students of
all backgrounds in the context of Mexican traditional music and dance.
Drumming and percussion are some of the most accessible forms of engaging in musical expression.  The workshop introduces players to the basics of percussion: rhythmic patterns, dynamics, tempo, texture, and ensemble work, all within the context of Mexican folk music.
Corridos: Mexican tragic ballad songwriting workshop
Mexican Songs and Algebra
Danza de los Viejitos: Mask Making Workshop
This class meets curricular goals in music, culture and literacy. A corrido is a Mexican epic ballad that tells  a tragic story, based on a true event.  Students learn that subscribing to form is a key element of good storytelling, and that the corrido provides a narrative formula for telling tragic stories.
This class meets curricular goals in music, culture and math and truly integrates the practical use of algebra as a problem-solving tool. It is a 60-minute lesson appropriate for 9 to 19 year old students, whether or not they have had algebra before.
"Los Enanos" (The Little Ones) is a traditional song from the huasteca region of Mexico. This class is aimed at a small group of young pre-school of kindergarten students.  Children learn simple choreography that consists of four steps while they follow the music.
The Mexican state of Michoacán is one of the richest when it comes to folk traditions in music, dance and crafts. Students learn about the history and traditions of this state by designing their own costume out of simple materials like paper plates, crayons, string and colored ribbons.
Contact for Scheduling
Call or Email

info@sonesdemexico.com

773.728.1164