GUITAR (Level 2) for ages 9-14 -in ROGERS PARK Sat 4pm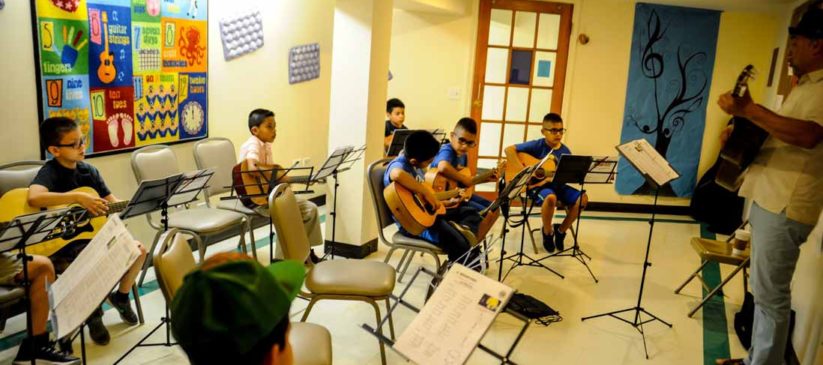 Registration for this class is closed.
GUITAR (Level 2) for ages 9-14 [in ROGERS PARK] [ver arriba para descripción en Español]
To sign up for this class students must have completed Guitar (Level 1) or have the instructor's permission. If you have not completed level 1 and would like to obtain special permission call us at (773) 728-1164 for an evaluation.
Classes for the Fall 2016 session will be Saturdays at 4pm starting on September 3 at Centro Romero, located in Chicago's Rogers Park neighborhood. The classes are in Spanish and the repertoire is based on Mexican folk music. The musical training and theory students receive is applicable to any style of music.
In LEVEL TWO, students will expand their repertoire learning songs that drill them on the basic skils they learned in level 1. They will also learn more about the culture, history and geography of Mexico.
Schedule: SATURDAYS at 4pm, September 3 thru November 19 (12 classes). All classes are 1 hour long.
Instructor: Gonzalo Córdova
Tuition: $150 for the entire course
Register now! Space is limited to 12 students!
For questions about the class and registration call Juan Díes at Sones de Mexico at (773) 728-1164 or write to juan@sonesdemexico.com. For questions about Centro Romero call (773) 508-5300.
Please bring a guitar! If you do not yet own a guitar, call us about affordable options.
For scholarship information contact Sones de Mexico Ensemble.
Where
Centro Romero – 6216 N. Clark St., Chicago, IL 60660
###
GUITARRA (Nivel 2) para edades 9-14 [en ROGERS PARK]
Para inscribise al Nivel 2 se requiere que los estudiantes hayan terminado el Nivel 1 o que tengan permiso del maestro. Si no han completado el Nivel 1 y desean obtener permiso especial llámenos al (773) 728-1164 para una evaluación.
Las clases en la sesión de otoño 2016 son los sábados a las 4pm a partir del 3 de septiembre en el Centro Romero del barrio de Rogers Park en Chicago. Las clases son en español y el repertorio es del folclor mexicano. Las bases musicales y la teoría que aprenderán se pueden aplicar en cualquier estilo de música.
En el nivel 2, los estudiantes ampliarán su repertorio de canciones utilizando los fundamentos que aprendieron en el nivel 1. También aprenderán mas sobre la cultura, la historia y la geografía de México.
Horario: SABADOS, 4pm, Septiembre 3 a Noviembre 19 (12 clases). Todas las clases son de 1 hora de duración.
Instructor: Gonzalo Córdova
Cuota: $150 por el curso entero
¡Incríbete ahora! ¡El cupo está limitado a 12 estudiantes!
Para preguntas sobre la clase o las inscripciones, contacta a Juan Díes de Sones de México al (773) 728-1164 o juan@sonesdemexico.com Para preguntas acerca del Centro Romero llama al (773) 508-5300.
Cada estudiente debe traer su propia guitarra. Si aún no tienes una guitarra, llámanos y pregunta sobre alternativas a precios razonables.
Para información sobre becas, contacta a Sones de México Ensemble.